Proactive and future-focused employers know that slashing employee perks and benefits in an effort to cut costs is short-sighted. Well-being programs and flexible benefits help support employees' financial and emotional resilience, increase retention, and bolster company culture, even amid uncertainty. Funding Lifestyle Spending Accounts empowers HR teams to sustain robust employee benefits and meet budget goals.
Today's HR professionals are tasked with doing more with fewer financial resources. Balancing budgetary constraints with employee expectations remains a challenge. A recent report from management consulting firm Gartner finds that 25% of 2023 HR budgets decreased compared to 12% in 2022. Twenty-eight percent of leaders say their budgets have remained stagnant year over year. 
The modern global workforce values flexibility, inclusion, and freedom of choice. According to the 2022 MetLife Employee Benefits Trends Survey, 61% of employees want a wider mix of non-medical benefits they can choose to purchase on their own. And 70% are interested in customizable benefits. LSAs stand out as the ultimate flexible employee benefit employers can offer their people today. 
Take a look at our tips for how to find funding for your LSA program. Personalize your benefits offerings, optimize investments, and increase employee engagement!
Here's what we'll cover:
HSA vs. FSA vs. LSA: What's the difference?
The main differences between an HSA, an FSA, and an LSA concern regulatory limitations, employee eligibility, and personalization. 
Traditional vs. modern benefits
Health Savings Accounts and Flexible Spending Accounts are traditional benefits that give eligible employees a degree of control over U.S. healthcare spending through pre-tax contributions and tax advantages. 
LSAs are globally flexible benefits that encompass lifestyle expenses beyond the typical healthcare costs covered by HSAs and FSAs. 
LSAs are "everyone benefits"
Lifestyle benefits are holistic well-being benefits, including family and caregiver support, tuition reimbursement, professional development funds, charitable giving contributions, and financial well-being support. LSAs allow employers to allocate funds and customize benefits plans to fit their employees' unique and diverse needs. 
Broad, flexible eligibility and utilization 

Personalized purpose 
The most common way to fund an LSA program is to utilize your existing resources. 
What happens to unused LSA funds?
Since LSAs are employer-sponsored accounts, only the employer can contribute funds, and there are no annual contribution minimums or limits. Completely customizable, LSA program costs are set by individual employers. Nearly 70% of Espresa clients offer between $250 and $1,000 annually per employee in 2023. 
A "use it or lose it" approach to LSA funding at the end of a plan year avoids various accounting complexities related to deferred compensation. LSAs are notional accounts. When employers only spend what employees use in a plan year, it means no dollars are wasted, and all benefits funds are utilized and appreciated. 
How to find funding for an LSA reimbursement program 
The most common way to fund an LSA program is to utilize your existing resources. Smart companies are finding ways to repurpose existing budgets to increase efficiency and improve employee value in strategic benefit solutions. Your LSA budget does not always require extra investment!  Boost the perceived value of your employee benefits strategy, match your organization's mission and vision, and adjust to evolving employee needs.
1. Consolidate budgets
Assess your current spending and conduct a cost-benefit analysis. Identify the benefits most valued by your employees and prioritize today's employees' needs. Understand that flexible benefits allow employees to choose what matters most to them. By taking a step back and employing a strategic approach to your budget, you can cater to diverse employee needs and see cost savings!
Even better, consolidating disjointed and multiple benefits solutions into one streamlined solution that provides ultimate flexibility allows for higher adoption and engagement.
Watch: LSAs, the Launch Anytime, Off-Cycle Benefit
2. Replace previous onsite perks
Strategically adjust onsite perks to improve employee benefits. Be sure to retain any highly valued perks that directly contribute to productivity and employee satisfaction. Minimize disruption and allow employees to adjust by implementing changes incrementally. And roll out new benefits simultaneously. 
As organizations continue to balance in-office and remote schedules, reconsider their physical workspaces, and reinvigorate their company cultures, now is the time to adjust onsite benefits to meet the evolving needs of your people. 
3. Reallocate real estate savings 
Organizations that have downsized offices, renegotiated leases, or transitioned to remote or hybrid work arrangements should consider reallocating their real estate budgets to support employee well-being, foster a positive workplace culture, and retain top talent. Aligning your strategies with changing work dynamics and employee priorities creates a more attractive and competitive work environment while effectively managing costs.
4. Repurpose
incentive dollars
Assess your existing incentive programs and well-being dollars. Identify which programs are most effective and valued and keep them in place. Consider replacing some less effective monetary incentives with rewards and recognition awards to boost culture and morale. The goal is to find a balance between recognizing and rewarding performance while investing in the overall well-being and long-term financial security of your workforce.
Read: 21 Creative Employee Recognition Ideas for a Happy Workforce
5. Redistribute HSA contributions
Evaluate your company's current HSA contributions and analyze historical spending patterns and projections. Determine the portion of HSA contributions that is underutilized and can be reallocated. Enhanced flexible benefits can directly support broader well-being goals for your people, including family support, fitness classes, therapy, and mindfulness activities.
6. Adjust the actuarial value of your benefit offerings
Minor modifications to elements of your plan design can unlock immediate cost savings. Determine elements of your current employee benefits that drive value with your employees and those elements with lower perceived value. This might include deductibles, copayments, coinsurance rates, or out-of-pocket maximums. 
Incentivize using high-quality providers or proactive management of specialty medical places of service, and produce savings without reducing the actuarial value of your strategic benefit offerings. Savings can be reinvested into an LSA reimbursement plan that generates added value and enhances employee engagement.
7. Exchange paid time off (PTO) 
Evaluate your existing PTO policies, including the types of leave offered (vacation, sick leave, personal days), accrual rates, and any limitations. Determine the monetary value of unused PTO for each employee and offer customization options. Allow employees to choose how much they want to exchange their PTO for LSA funds. 
It's essential to keep employee total well-being as your top priority. Establish a clear process for tracking PTO exchanges, documenting employee choices, and monitoring benefit contributions.
The best benefits 
The best LSA benefits meet your people's needs and wants. Whether you want to consolidate existing programs or add some flexible options to the mix, your LSA plan design will provide employees with benefits they love.
Discover: 8 Crucial Benefits of Employee Wellness Programs
Sustainable, strategic investments in your employee benefits strategy save time and money. Minimize point solutions and align your entire HR ecosystem with stand-alone or bundled and integrated solutions. Globally engage employees wherever their work-life lives with LSAs, well-being programs, rewards and recognition, and employee resource groups and communities. 
The best benefits are the ones your employees use and love. A holistic approach to benefits spending optimizes the value of your investment and boosts employee engagement.  
Unlock the power of your investment
LSAs are customizable and personalized to each organization. A credible Return on Investment (ROI) is hard to evaluate broadly. The Value of Investment (VOI) is a more accurate and effective measure of success. Broad-based LSA programs have an 85% employee participation rate, and the greater the flexibility of your LSA program, the higher the employee participation. 
Employee participation is central to an effective employee benefits strategy, and multi-dimensional well-being programs have the highest employee utilization.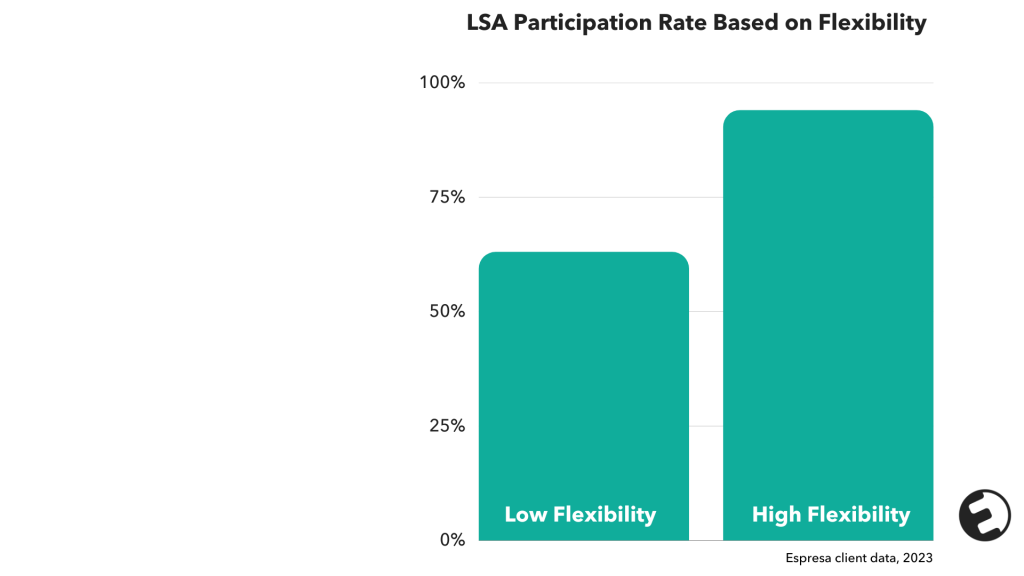 Download: Espresa's LSA 2023 Benchmark and Trends Report
The benefits of LSAs: 
Attract new talent and boost retention 

Personalize benefits to employees' diverse needs

Broaden well-being support

Amplify engagement

Support

diversity, equity, and inclusion

(DEI) efforts 

Address corporate Environmental, Social, and Governance goals

Attend to Social Determinants of Health and Social Determinants of Well-Being factors 

Empower a global workforce
Elevate benefits, not costs 
Power great workplaces with flexible benefits and a focus on total well-being. With elevated employee benefits, everyone wins. The best benefits are the ones your employees use and love. A holistic approach to benefits spending optimizes the value of your investment and boosts employee engagement. 
Finding ways to lighten the administrative burden and save your budget while you exceed employee expectations is mission-critical. Make sure Lifestyle Spending Accounts are part of your broader employee benefits strategy and level up your flexible benefits game. Reach out to our team for a demo!
How to Score Top Talent with an Inclusive Employee Benefits Strategy